by Dugan Morgridge
Here in the States, it's easy to think of Italian food as familiar—but as I learned as a freshman in college, when I had the good fortune to be recruited to ride along on a high school choir's ten-day tour of Southern and Central Italy, there's far more variety to the cuisine of the various regions of Italy than the drenched-in-tomato-sauce fare we most often come across. We all know pizza, and what we have here is kinda sorta close to the pizza of Naples. But to most of us on this side of the pond, spaghetti alle vongole doesn't ring quite such a familiar bell. So when I saw Anne Hunter's mentions of Neapolitan and Venetian dishes in her feature, I immediately wanted to find out more. After all, once a growing boy, always a growing boy—and I'm pretty much always interested in good food.
So I did some searching and some reading, and plan to follow that up with some cooking (and most importantly, eating!) in the near future. I thought I'd share a bit of what I found so far with you.
Naples: Spaghetti alle Volgone (Spaghetti with Clams)
This popular dish originated in Naples. One easily imagines that the city's famous bay provided a wealth of clams and that, given this bounty of nature, the creation of this dish was inevitable. With two primary ingredients* and a small, variable cast of supporting characters, its simplicity is beautiful, and typical of the area (see also the Caprese salad, from the nearby island of Capri—another example of a beloved dish whose strength lies not in fancy cooking techniques or wild flavorings, but the simple combination of good, fresh ingredients).
Ingredients:
1 gallon water

1 pound dry spaghetti

olive oil (See below for quantities.)

3/4 ounce garlic, minced

2 pounds live clams

8 ounces diced plum tomatoes (Use for in rosso; omit for in bianco.)

8 ounces canned, shelled clams, thoroughly rinsed (optional)

4 fluid ounces bottled clam broth (optional)

a handful of parsley, minced

olive oil (See below for quantity.)

salt to taste (See below for quantity.)

Peperoncino (hot red pepper) or, less commonly, black pepper to taste
Cooking Procedure:
Boil the water in a large pot with a tbsp of salt.
Add the spaghetti once the water starts boiling. Cook until the pasta is al dente. This should take 7-8 minutes.
Pour olive oil into a large, wide pan so that it barely covers the bottom and heat the oil. Add the garlic, along with the peperoncino, and sauté until golden brown. This should take about a minute. Be careful not to burn the garlic.
Add the live clams and diced tomatoes.
Put the lid on the pan and cook for about eight minutes. Shake the pan every minute or so to help the clams open. Throw out those that don't.
Drain the spaghetti and put it in the pan with the live clams and tomatoes. Reduce the heat to low.
Add the canned clams and clam broth to the pan.
Season with salt (and pepper, if the peperoncino is not used) to taste and toss until the pasta is well coated with tomatoes and oil. Add another tablespoon of olive oil if you like. Sprinkle with chopped parsley. Serve hot.
This recipe, with its canned clams and broth, is obviously not the most "purist" approach, but do note – cheese or cream, while sometimes added to this dish in American kitchens, are a real no-no, as they will obscure the natural flavor of the clams and good olive oil.
* OK, maybe three primary ingredients – it all depends whether you want to include tomatoes (in rosso) or not (in bianco). In some circles, this is a real point of contention. Personally, I'm perfectly happy with either style. Clams is clams, after all, and if they're good, then so am I.
Venice: Risi e Bisi (Rice and Peas)

OK, so that risotto Anne mentioned sounds just delicious, but if you're as intimidated as I am by the very thought of attempting to make your own risotto at home, this Venetian dish may be just the ticket. Traditionally served on the feast of Saint Mark (April 25), as a celebration of Spring, risi e bisi is a simpler, easier, but equally delicious cousin to risotto. This recipe calls for prosciutto, but pancetta or bacon are more commonly used.
Ingredients: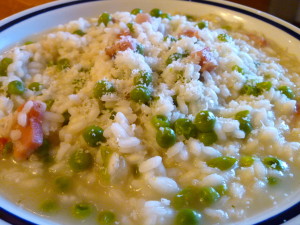 8 tablespoons butter
2 cups freshly shelled peas
3½ cups good chicken stock
1 small onion minced
2 slices prosciutto diced
1 cup arborio rice
½ teaspoon salt
1 teaspoon freshly ground pepper
1 tablespoon finely minced parsley
1 cup freshly grated Parmesan cheese
Cooking Procedure:
Melt 2 tablespoons butter in medium size pan. When it has just melted add peas.
Turn heat down as low as possible and cook peas covered about 15 minutes.
Take care not to overcook. Set aside.
Heat chicken stock until it starts to steam then lower the heat and have it ready.
Melt remaining butter in a large heavy pot. When melted add minced onion and sauté over medium heat until translucent. Add prosciutto and then the rice. Sauté for 3 minutes or until grains take on a translucent cast.
Begin adding the hot stock a ladleful at a time stirring constantly until stock is absorbed and rice is plump but not too soft.
Taste for seasoning, adding salt as needed, then pepper.
Gently stir in the parsley and cooked peas and cook for another 2 minutes.
Turn into a serving dish and sprinkle with half the Parmesan, reserving the rest to be added separately at the table. Serve immediately.
Of course, there are countless variations on both these dishes, and many, many more dishes associated with these cities, whether you're wanting to get in touch with your Neapolitan side (pasta e fagioli, authentic pizze, all sorts of fish and shellfish dishes) or Venetian side (nero di seppie, lots of sardines—I like them, unapologetically—all sorts of risotto). And I haven't even covered any desserts (OK, seriously, my mouth is watering). Now if you'll excuse me, I'm very hungry and I've got quite a grocery list to attend to. See you on the 23rd or 24th, and feel free to compare notes or slip me your favorite recipe!
UPDATE: Recommended wine pairings from Max Gottesfeld and Richard Girolami at the PA State Wine & Good Spirits store at 1228 Chestnut Street (staff wine specialists who have acquired a near-legendary reputation among Center City foodies).  All the bottles are available in the state stores (at least in the bigger, luxury state stores); none of them will break the bank. 
For the risi e bisi, Max says that you can't go wrong with an old world, European Syrah. There are a lot of them, but you'll be fine if you pick from the State Store's Chairman's Selections. If you're feeling adventurous, though, Max suggests a Cabernet Franc—a spicy, peppery red. You can find it—or something like it—at one of the premium stores.
For the clams, a crisp, clean white is the ticket. Max says that an Italian Trebbiano is always safe. If you want to go a cut above, he says, look for a Spanish Rueda. And a Verdijo Viura would be great—fruity and herbal.