As we began working on the design of our 2016-2017 season brochure, we played around with a few different themes and ideas. We knew we'd be building a season of concerts with Vivaldi's Four Seasons at the core of the programs, and of course that left us with many possibilities. But out of all the images we looked through, we kept coming back to these very cool decorated violins we'd seen online. How perfect!
Fortunately for us, all it took was an email and a phone call with Irina Charny, the creator of those works of art, and a few minutes later, we had high-resolution images of the artworks, and the artist's blessing to use them in our designs.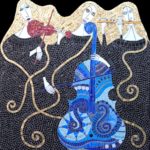 Since we announced our new season about a month ago, we've had a lot of enthusiastic responses to these beautiful mosaics, and people are curious what the story is behind them—who made them, how did we find them?
Irina is based across the country in California, so we couldn't get together for tea, but she very graciously helped answer those questions and more by email.
Could you tell us a little about your background and how you came to working as a mosaicist?
I was born in the Soviet Union and came to the US as a teenager in the seventies.  I never got an arts education (I have a BS in math and a masters in library science) but always felt a need to do creative things with my hands – ceramics, polymer clay, fiber sculpture, flameworked glass, etc.
I discovered mosaics by chance – after an earthquake the fireplace chimney had a lot of cracks and I remembered seeing a photo in a magazine of a do it yourself project where someone decorated a fireplace with broken tile kind of in a Gaudí style.  I decided to try and was hooked.  That was 20 years ago and I still love making mosaics.  What started as a hobby became my life's work.
[Irina's website also includes a brief artist's statement that elaborates a bit on this.]
At first, I asked Irina about the violins we used in the Tempesta designs, but browsing the pictures of on her site, I quickly realized that the violins aren't the only pieces inspired by the four seasons of the year, nor are they her only works inspired by music.
Can you tell us the story of the Four Seasons violins? 
The violins were made for the Pacific Symphony fundraising auction. My husband and I went to Pacific Symphony concerts on a pretty regular basis at the time but also our son was invited to attend arts-x-press, the Pacific Symphony arts program for young teens and it was a wonderful experience for him and he ended up being a counselor for a few sessions when he was older. I had made several pieces earlier with the Four Seasons theme and it seemed a natural choice for the violins.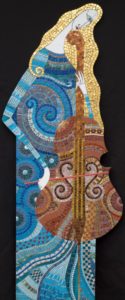 2016-2017 Season Passes
Did Vivaldi's Four Seasons play any role in your work/inspiration?
Yes, all of the four season pieces were inspired by Vivaldi and I did have it playing while making the violins and the other Four season pieces.  I can't say exactly what the inspiration was other than the music's beauty but it was a theme I kept coming back to for some reason. I have made quite a few musically inspired pieces.

How can we find out more about your work?
For more of my work people can look on my website, www.icmosaics.com.
There's also a great book featuring photos of Irina's work, so if you like what you see on her website, consider checking that out here. Our thanks again to Irina for lending us her beautiful work to help celebrate our Fifteenth Anniversary Season!