Tempesta's next CD recording project for Chandos, our 8th for the label in as many years, will be an entirely new adventure: reimagining Bach's six organ trio sonatas in original settings for chamber ensemble. And to finance this amazing project, we're experimenting with the next big thing in online fundraising: crowdfunding.
We have launched our first crowdfunding campaign on IndieGogo, and our campaign has already seen great success: with just a few more participants, we'll have made our goal! Follow this link to see what we're doing on there, and even to take part.
This IndieGoGo campaign makes our Bach CD into a project founded on community, which is what drew us to it.
The idea behind crowdfunding is simple: connect with the larger, online community of people beyond your immediate sphere, who share your passion for seeing your project come to fruition. The individuals who receive our postal mail appeals and respond to them—who also attend our concerts and chat with us afterwards—remain our most valuable asset. But crowdfunding offers a way for us to make a real connection between our project and the people who take part in it, transforming music lovers who may know us only through past 99¢ MP3 downloads into philanthropists. Philanthropists who have made a real difference. Perhaps this is you.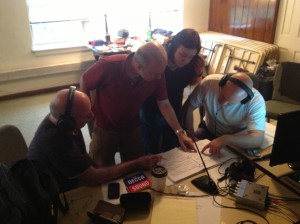 In case this is the first you're reading about it, this project is Bach's six trio sonatas, BWV 525–530, in our original orchestrations. These trios number among Bach's finest instrumental writing—deep, wicked, jaunty and even hard-rocking—all within the three-movement sonata format. He composed at least 11 of the sonatas' 18 movements as chamber music before arranging them into the organ solos by which they're now known.
This IndieGoGo campaign makes our Bach CD into a project founded on community—an even broader one than what we connect with here on our concert series—which is what drew us to it. That and the fact that on IndieGoGo your contribution to this CD project remains tax-deductible, because it is one of the few platforms that takes account of an organization's non-profit status.
We are excited to take this project on, a project that you might find exciting to participate in, too.*
Contribute
*We have lots of nice thank-you gifts to show our appreciation if you do take part.
---