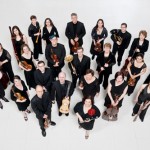 To all who contributed towards our end-of-year fundraising campaign, heartfelt thanks!
It's impossible to overestimate the importance of telling people that Tempesta's operating budget—along with those of the Philly Orchestra, the Opera Company, and on and on—relies as much on the generosity individual supporters at all levels as on grants and ticket sales.
It's a plain fact, though not necessarily an obvious one to everyone, so we're especially appreciative when the message is received, understood and acted on. Even cloudbursts are made from droplets, and every contribution matters.
Thank you very, very much!
---